Colorado Hunting at its Best!
-
references
Cat Track Outfitters guides and outfits hunters for cougar (mountain lion) hunting trips on the Western Slope, around Collbran Colorado. Hunts are also available for private land deer and elk hunting during archery season and rifle season.
The Colorado Division Of Wildlife License Draw Deadline is April 5, 2016 for the 2016 hunting season. Check the CO DOW website for leftover licenses.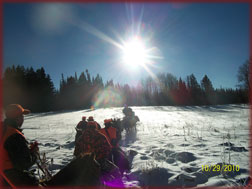 To hunt mountain lion, deer, and/or elk in Western Colorado with Cat Track Outfitters, contact Fred.
For all hunts, we provide transportation to/from the nearest airport (typically Grand Junction, CO). The client is responsible for license, BLM fees, clothing, and weapon of choice. dates & rates
Mountain Lion Hunts
November 16, 2015 through March 31, 2016 ~ Rates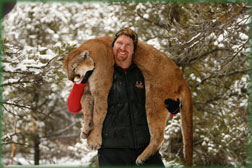 Our Mountain Lion Hunts run from November through March, depending upon the weather. All lion hunting areas in Colorado are on a quota system. The licenses are sold over the counter. When an area has its quota filled, that area is then closed for the season. To reserve a prime time, be sure to book your mountain lion hunt early!
We have been taking lion hunters for over 30 years and have a successful harvest ratio of about 98%. We hunt from our home in Collbran CO and the surrounding area.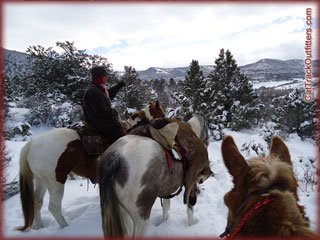 We harvest only mature lions of either sex. We prefer taking one party at a time of no more than two hunters. NO mixed parties. We use 4x4 vehicles, ATV or snowmobiles, horses or mules on most hunts. All hunts are fair chase. The hunter should be in good physical condition. Non-hunters can enjoy relaxing, horseback riding, photography, and more.
Private Land Deer & Elk Hunts ~ Archery & Rifle
August through November
Dates & Rates
The deer and elk hunting seasons in Colorado run from August through November, with the Archery season before Rifle season.
Book Your Colorado Hunting Trip Now!
Currently, all deer and elk hunts are on private land during archery and rifle seasons.
Call Fred or book online
Cat Track Outfitters, located in Collbran Colorado (about 40 miles East of Grand Junction CO in Mesa County and 50 miles from the Utah border), has guided and outfitted hunters from Jonesborough TN, Frankton CO, Appleton WI, Denver CO, Palisade CO, Finleyville PA, Fort Scott KS, Chicora PA, Greenfield IN, St. Cloud MN, Moore TX, LaGrange GA, and other towns in AR, AZ, CA, CO, FL, GA, IL, IN, KS, KY, LA, MA, MD, MI, MN, MO, MS, MT, NC, ND, NE, NJ, NV, NY, OH, OK, OR, PA, TX, UT, WA, WI, WY. Whether you take one of our guided bear hunts or a guided mountain lion hunt, seeing and getting in close to the big game is a delight most hunters enjoy at Cat Track Outfitter's full-service hunting camps. Experienced, professional hunting guides and outfitters will take you on archery hunting trips, muzzle-loader hunting trips, and/or rifle hunting trips.
© Cat Track Outfitters, LLC
Website design and hosting
by McDel Publishing